Is New Media Transforming Political Cultures in Africa?: A Synoptic Case Study of Nigeria
  Tunde Ope-Davies (Opeibi)
 University of Lagos Digital Humanities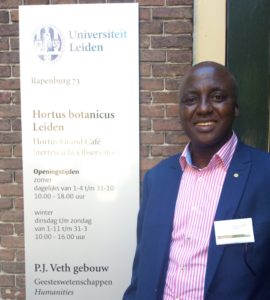 Since the outbreak of the Arab Spring in the Saharan region of Africa, new media technologies have assumed a new status in Africa and across the world. The use of these digital media platforms is believed to have implications for society, culture, politics and other areas of social ecosystems. The success of Nigeria's 2012 fuel subsidy protest was, for instance, largely attributed to the use of social media by the civil society organisations and private citizens.
Between 2011 and 2019 in Nigeria, our studies have shown that political actors and stakeholders are increasingly using a range of new media technologies to create interactive space for political engagement. Online searches conducted on key topics that are trending show that the WebSphere has become political engagement space in Nigeria. For instance, some web-based platforms and social networking sites such as blogs, portals of national newspapers, political websites, Facebook and Twitter now provide publicly accessible information on democratic practice and civic engagement in Nigeria (Opeibi, 2016, 2019).
Using web-based applications and corpus analytical tools (e.g. Sketch Engine, Keyhole, AntConc3.4) and media monitoring methods, we are able to digitally-track and harvest important political issues that enjoy popular discussions in online political space. The information that is extracted gives us an idea of the way the issues are constructed and portrayed and the attitude of the stakeholders to the subject. One such issue that has remained in the public domain as well as in the public sphere in the last fifteen years has been the quest for good governance in Nigeria. Successive administrations at the three major administrative levels (federal, state and local) since 1999 have struggled to convince the average Nigerian citizens of their genuine desire to provide what they perceive as good governance (Opeibi, 2015).
Apart from different Twitter hashtags that have developed around key political issues in Nigeria (e.g., #OccupyNigeria, #NigeriaDecides, #BokoHaram, #BringBackOurGirls), the 2015 political campaigns generated some elections-induced hashtags. These included, #APCDecides, #GEJ, #GMB, #Change, #GEJSAMBOCARRYGO, #Forward, #Countdown2Change, #IvoteBuhari, #BuhariOsinbajo, #NigeriaDecides2019, #NextLevel2019 etc. In a similar vein, the 2019 general elections witnessed a significant increase in the use of new media technologies and web2.0 for political campaigns, political mobilization, crowdsourcing, fundraising and civic engagement. Twitter was particularly heavily used by political candidates compared with previous elections. The use of multimedia political websites that provide the space for videos, audio, texts, pictures and real-time interactive conversation enhance the synchronous computer-mediated communication strategies utilised for intense online political engagement.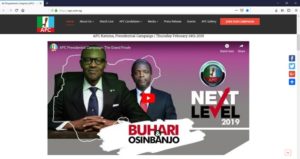 Figure A: Political Website of the All Progressives Congress (APC) during the 2019 Elections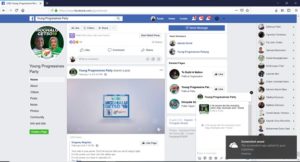 Fig. B:  Political website of the Youth Progressives Party (YPP) during the 2019 general elections in Nigeria.
While some scholars have criticized the claims that social media can improve political participation, our study has shown that regardless of the shortcomings of digital politics, the new technologies are gradually transforming political cultures in Nigeria. Our studies have shown that within the last three electoral cycles, new media usage has increased significantly.
| | | |
| --- | --- | --- |
| S/N |  Year of Election |  Types of New Media Used |
| 1 |     2011 |  Mobile Telephone SMS, Limited use of Facebook |
| 2. |     2015 |   Facebook, Political Websites, Twitter |
| 3. |      2019 | Enhanced Digital Features on Facebook, Twitter, WhatsApp, Multimedia Political Websites, Instagram, YouTube, limited Use of Telegram, |
Experts, scholars and international election observers all agree that 2019 general elections were particularly impacted by technologies at every level. The use of digital technologies is now promoting participatory democracy, credible electoral process and accountability. Government activities, the conducts of elected officials are now transmitted into online public space via social media platforms. Indiscretion and scandals are discussed online and culpable officials are called to account for any acts of indiscretion. It may be argued therefore that new media technologies have created a whole new process of engagement in private and public spaces. Within the context of democratic practice, the new technologies have demonstrated the potential to transform political cultures and create a new public space that will continue to bridge the existing communication gaps between citizens and their leaders.
References
Opeibi, T.( 2019). Opeibi, Tunde. (2019). "The Twittersphere as Political Engagement Space: A Study of Social Media Usage in Election Campaigns in Nigeria." Digital Studies/Le champ numérique 9(1): 6, pp. 1–32. DOI: https://doi.org/10.16995/dscn.292
Opeibi, Tunde (2018b). Gaining Political Capital through Social Media: A Study of Akinwunmi Ambode's Twitter Campaigns During 2015 Elections in Nigeria. Opeibi, T., and Schmied, J. (eds) (2018). From Virtual Sphere to Physical Space: Exploring Language Use in NigerianDemocracy, REAL Studies Vol 13. Gottingen: Cuvillier Verlag, pp 1-30
Opeibi, T., and Schmied, J. (eds) (2018). From Virtual Sphere to Physical Space: Exploring Language Use in Nigerian Democracy, REAL Studies Vol 13. Gottingen: Cuvillier Verlag,  206pp
Opeibi, Tunde (2016). Digital Media and Civic Engagement in Nigeria: A Corpus-Based Discourse Study of President Goodluck  Ebele Jonathan's Facebook Page. Taiwo R., and Opeibi, T. (eds.) (2016). Discourse of Digital Civic Engagement: Perspectives from the Developing World. New York: Nova Science Publishers Inc. 1-34
Opeibi, Tunde (2015). New Media and the Transformation of Political Cultures in Nigeria: An exploration of a corpus-based discourse approach. REAL Studies 9.202-231